Receive

support

To promote the integration of people with severe disabilities and mental health disorders (MHDs) into the labour market, the Social Integration State Agency's (SISA) project "Employment and Social Integration of People with Disabilities or Mental Health Disorders" includes five professional continuing education programmes and 35 skill training programmes.
Who can participate in the project?
People with severe disabilities (Group I and II disability) and people with MHDs who are not attending general education institutions and are older than 15 years of age.
What are the benefits of participating in the project?
Within the project, people are assessed for professional suitability and participate in the educational programmes while living in dorms and receiving three meals a day.
People with disabilities and MHDs are assisted and supported by a psychologist, career consultant, social worker, physiotherapist and other specialists. There are also plenty of interesting pastime options available.
Special transport is available for transporting people with severe disabilities from their accommodation to the study location. With special transport, people with severe disabilities can also be transported to the study location from their home.
After completing the studies, people receive help with their job search.
If the person is already working, the project's workers will give advice on adapting their workplace accordingly.
What do the study programmes teach?
At SISA, people with severe disabilities can study in five professional continuing education programmes:
Clerk
Florist
Gardener
Warehouse worker
Carpenter's assistant
These programmes have different durations. For example, warehouse workers study for six months, but clerks – a year and a half. After completing studies, they are awarded the respective profession.
There are also various skill training programmes available for people with MHDs: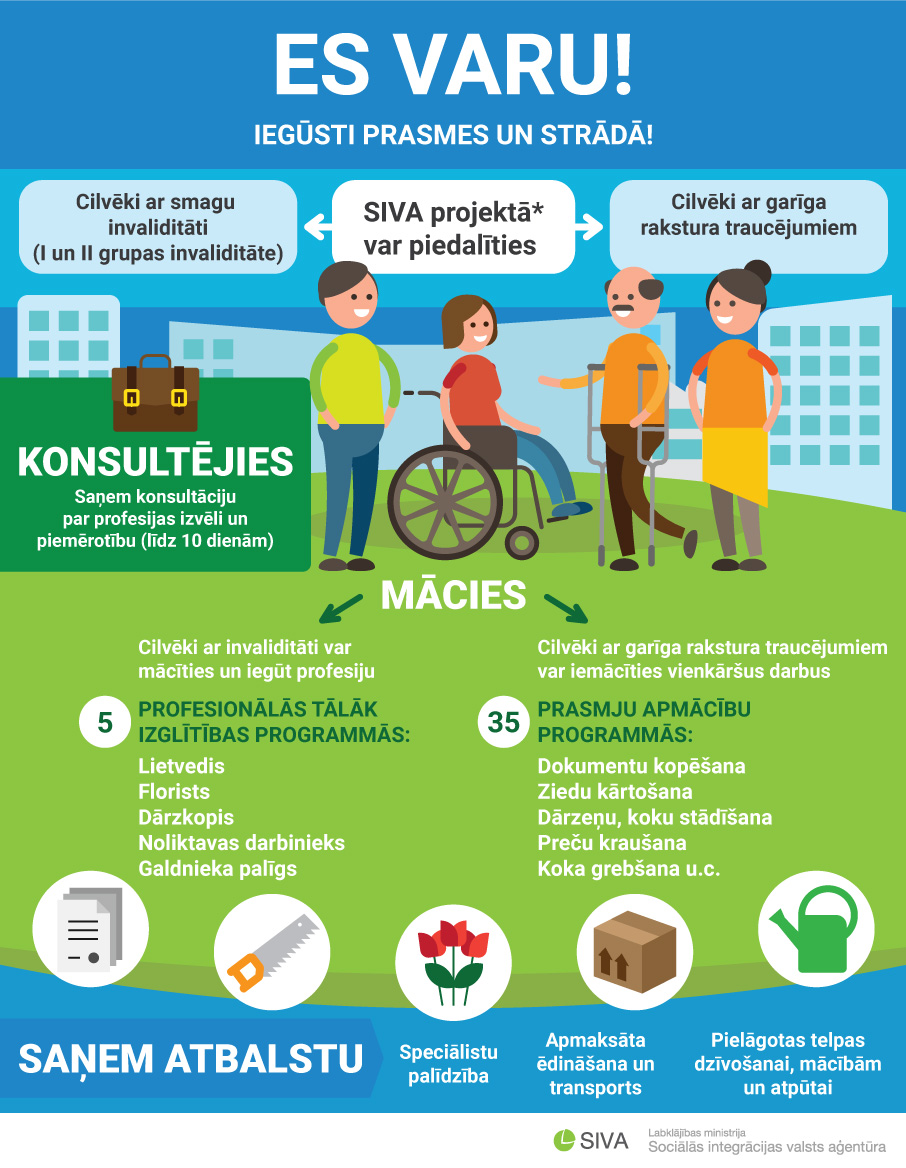 Stacking goods at warehouse
Placing goods on the sales floor
Marking goods
Attaching labels
Assembling goods
Pushing shopping trolleys
Sorting fruits, vegetables and similar products
Copying documents
Organising documents
Sweeping streets, raking leaves
Weeding gardens (digging, loosening soil)
Preparing and passing seedlings
Planting vegetables
Planting trees and shrubs
Gathering branches, stacking timber (performing other woodworking helper's tasks)
Carving wood (making various items)
Weaving wicker (making various items)
Arranging flowers (making various floral compositions)
Making wreaths
Pouring candles, preparing materials
Wrapping gifts
Knitting socks and mittens
Basic sewing machine skills
Ironing laundry
Sorting and marking laundry
Folding laundry
Washing and polishing crockery
Cleaning up dishes
Peeling vegetables
Washing floors
Dusting, polishing furniture
Packing bread and pastries
Making soap, preparing raw materials
Guarding and patrolling premises and territories
Receiving, hanging up and keeping an eye on outerwear
Programme attendees will learn to perform simple jobs.
Programmes for people with MHDs take 1–4 months to complete. After completing training, they receive a certificate as proof of their skills.
Where can you learn more about participating in the project?
You can contact SISA over the phone and e-mail or visit SISA in person.
SIVA contacts:
Slokas iela 61
Jūrmala, LV 2015
Phone: 26385047
What do you need to apply for the project?
To participate in the project, people with severe disabilities or MHDs have to submit an application to SISA.
Along with the application, you have to submit copies of education documents, such as secondary education diploma. SISA will need to see the originals of your documents.
You will also need to submit a medical conclusion from your family doctor (general practitioner) with the primary and secondary diagnosis codes or an acknowledgement that you as a disabled person can follow a study process.
For people with severe disabilities, the medical conclusion has to include the disability group.
What is the duration of the study programmes?
The duration depends on the chosen programme: from 1 month to 18 months.
FOR EMPLOYERS
Entrepreneurs who provide employment opportunities for people with mental health disorders (MHDs) are not only being socially responsible but are also eligible for different types of government support for the promotion of employment.
Subsidised Jobs for the Unemployed 
By participating in the State Employment Agency's project "Subsidised Jobs for the Unemployed", employers who create new jobs for the long-term unemployed, including people with MHDs, can receive grants for the salaries of these people and their supervisors, as well as consultations and support for adapting their workplace for disabled people. If necessary, employees with MHDs can receive ergotherapy, a sign language interpreter and support worker services, as well as compensation of rental costs for living quarters or accommodation in dorms.
More about the project: http://www.nva.gov.lv/index.php?cid=2&mid=511&txt=4146
A Chance to Train the Necessary Specialist
By participating in the State Employment Agency's project "Support for the Education of the Unemployed", employers can receive support for training a person with an MHD for a specific job at their workplace. For six months, the company can receive a monthly grant for the salary of the employee with an MHD and their supervisor and a one-off grant for purchasing personal protective equipment and adapting their workplace for the needs of the disabled employee. The mandatory medical examination is also covered.
Associations and foundations that train support specialists for disabled people within the project can also receive a grant for making the mandatory social insurance contributions from the grant portion of the salary.
More about the project: http://www.nva.gov.lv/index.php?cid=2&mid=511&txt=4149
Support for Social Entrepreneurship 
Social enterprises that increase the employment opportunities for people with MHDs can request financial support from the ALTUM development finance institution. To apply for financial support, the company must have the status of a social enterprise and be registered in the Register of Social Enterprises.
More about the project: http://www.lm.gov.lv/text/3496
---